---
Overview Of: News In Nigeria Today 2 , June 2020 [Read More]
---
By
admin
The Nigeria Centre for Disease Control, NCDC reports that 20 states have recorded 416 new Covid-19 infections in the country bringing the total number of confirmed cases to 10,578.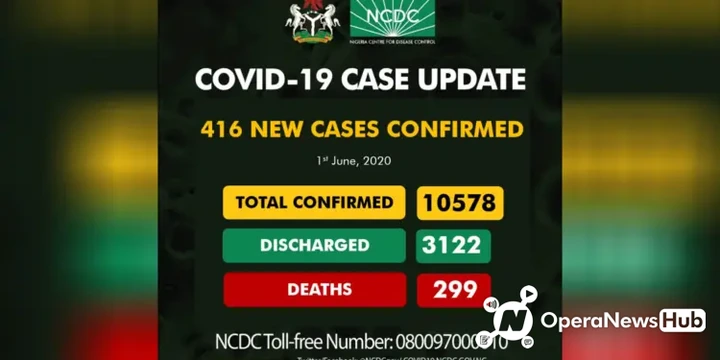 1. Federal government opens churches, mosques, curfew time changes
Curfew time adjusted, churches and mosques can now open.
The federal government has further eased coronavirus induced restrictions which first kicked off on March 31.
Churches and mosques are now allowed to open their doors for worship in accordance with guidelines or protocols handed by state governments.
According to the president's new media aide, Tolu Ogunlesi, the following will now apply:
Nationwide curfew remains in place, timing now 10pm—4am. (No longer 8pm to 6am).
Full opening of financial sector. That is, banks and the likes will now open all through normal working hours.
Restricted opening of places of worship, (regular church and mosque services ONLY), to be based on state govt protocols.
Interstate travel remains prohibited except for goods and essential travel.
Gathering of more than 20 persons remains prohibited; outside of workplaces and religious services.
The aviation industry has been requested to start developing protocols for domestic flights to possibly resume from June 21.
Schools are still closed.
Bars, gyms, cinemas, nightclubs, parks remain closed until further evaluation.
Hotels may reopen.
Restaurants outside of hotels must remain closed for eat-in—TAKEOUT ONLY
Offices are expected to maintain 2 meter physical distancing + 75% maximum capacity.
All guidelines are as issued by #PTFCOVID19.
Guidelines to be implemented/ enforced by state governments.
All permitted openings (hotels, religious services etc) to maintain non-pharmaceutical interventions (masks, sanitizers/handwashing, 2m distancing, capacity limits, etc).
The June 21 date for opening of domestic flights is tentative. Certain conditions have to be fulfilled between now and that date.
Aircraft have to be good and safe to fly (checks/maintenance) with necessary recertifications + medicals for pilots/crew.
2. Nigeria's aviation sector to reopen after three months
Nigeria's domestic airspace, shut in March in a bid to curb the spread of the novel coronavirus disease (COVID-19), is now set for a re-opening.
The federal government has asked the aviation sector to begin developing protocols that will lead to the resumption of domestic flights from June 21.
National coordinator of the presidential task force on COVID-19, Sani Aliyu, said during a briefing on Monday, June 1, that "the aviation industry is requested to start developing protocols to allow for domestic flights to resume anytime from the 21st of June onwards.
3. Nasarawa SSG indicted over project scam, to refund over N248.5m
Tijjani has therefore been ordered to refund the government N248.5 million of the unaccounted funds, released in 2018.
The Chairman of the ad-hoc committee, Mr Daniel Ogazi, (APC- Kokona East), who made this known on Monday in Lafia, while presenting the committee's report during the House′s proceedings, noted that the SSG was the state's Commissioner for Education when the alleged fraud occurred.
Ogazi said that the former commissioner displayed blatant inefficiency, incompetence and ineffectiveness in the performance of his official duties.
He said based on the committee's recommendations, N873, 233,942.60 was expended as discovered from the Payment Vouchers (PVs), excluding 5 per cent deductions for Monitoring and Evaluation (M&E), as payments for the completed and uncompleted projects.
4. Obaseki presents nomination form to Buhari
Godwin Obaseki, governor of Edo state, presented his nomination and expression of interest forms to President Muhammadu Buhari on Monday.
Obaseki, who is seeking re-election on the platform of the All Progressives Congress (APC), met with Buhari at the presidential villa.
Earlier on Monday, seven APC governors had met with Adams Oshiomhole, the APC national chairman, to broker peace between him and Obaseki.
The rift between the duo has split the Edo chapter of the APC and there is tension in the state in the buildup to the September governorship election.
Obaseki and Osagie Ize-Iyamu, who is believed to have the backing of Oshiomhole, would vie for the party's governorship ticket on June 22.
5. Ebola epidemic strikes again in Congo
Democratic Republic of Congo declared a new Ebola epidemic on Monday in the western city of Mbandaka.
The town is more than 1,000 km away from another outbreak of the same deadly virus in the east. #EbolaEpidemic
Health Minister Eteni Longondo said four persons who died in Mbandaka were confirmed as positive cases.
This followed testing at the national biomedical laboratory in the capital Kinshasa.
"We have a new Ebola epidemic in Mbandaka," Longondo told reporters.
"We are going to very quickly send them the vaccine and medicine."
The outbreak was confirmed by World Health Organisation Director-General Tedros Adhanom Ghebreyesus.
He tweeted: "This outbreak is a reminder that #COVID19 is not the only health threat people face."
---
Published: 2 years ago
---